UPDATES
A PLACE AMONG THE DEAD is a genre-bending art film which explores the repercussions of growing up under the sway of narcissism and psychological abuse. Juliet Landau's (Buffy, Angel, Ed Wood, Bosch) feature directorial debut is available worldwide soon!
The Modern Films' distributed picture stars Juliet with Gary Oldman, Ron Perlman, Robert Patrick, Lance Henriksen & Anne Rice, appearing for the first time ever in a movie!
In this revealing, terrifying, entirely scripted, meld of fact, fiction and the fantastical, actress / filmmaker "Jules," driven by the demons of her past, embarks on a journey at the potential cost of everything she knows and loves.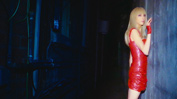 Be a part of Fans of Juliet Landau Facebook page and interact with Juliet Landau!
»Send a request
---