UPDATES
Juliet Landau will be recurring on Amazon's number 1 television series, BOSCH. The release date for season 5 is April 19th. She plays Rita Tedesco, a court reporter living with a secret. (That's all she's allowed to say for now! No spoilers!)
Juliet just helmed her visionary, feature film directorial debut, A PLACE AMONG THE DEAD. An incredibly personal film, Juliet likens telling this revealing tale to skinning herself alive. She stars in the venture, which includes cameos with Gary Oldman, Ron Perlman, Robert Patrick, Lance Henriksen, Joss Whedon and Anne Rice, appearing for the first time in a movie.
Also in the works and partially completed is THE UNDEAD SERIES. The logline could be: Drusilla, Dracula and Lestat walk into a bar… It's the only anthology documentary series on vampires, which boasts the A-list of the genre gathered all together. Every one of the talented artists in A PLACE AMONG THE DEAD returned to participate in her series, as did Tim Burton, Willem Dafoe and many other notables.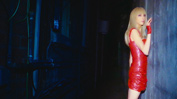 Be a part of THE UNDEAD SERIES. Join the Undead!
»Get involved!
---